US government financial institutions indicate willingness to support ORLEN Synthos Green Energy with its GE Hitachi BWRX-300 small modular reactor deployment program in Poland
17/04/2023, 16:59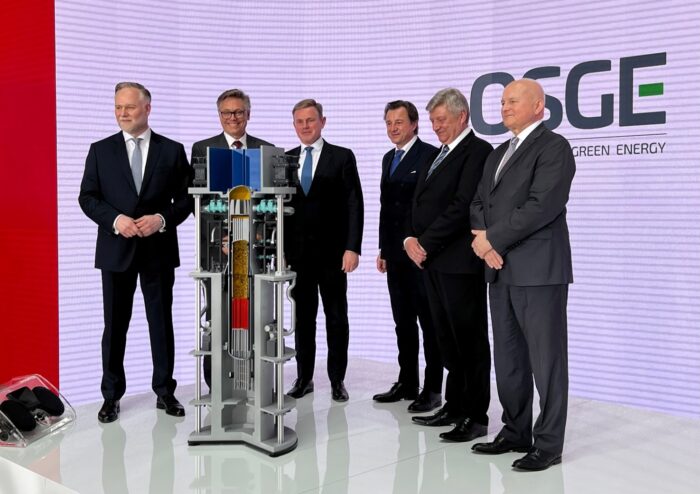 The U.S. EXIM Bank and the U.S International Development Finance Corporation (DFC) today announced their interest in lending up to 4 billion US dollars to ORLEN Synthos Green Energy's project in Poland to deploy BWRX-300 small modular reactors (SMRs) designed by GE Hitachi Nuclear Energy. The biggest Polish banks – PKO BP, Pekao S.A., BGK and Santander Bank Polska S.A. – have also expressed interest in providing financing for the OSGE project.
Letters of interest were signed by representatives of EXIM Bank and DFC at a ceremony hosted by the U.S. Ambassador to Poland Mark Brzezinski and attended by a visiting U.S. Congressional delegation including Cathy McMorris Rodgers (R-WA) – the Chair of the House Energy and Commerce Committee.
The EXIM Bank may lend up to USD $3 billion, and DFC may lend up to $1 billion for the construction and deployment of the first two units of BWRX-300 small modular reactors. EXIM and DFC are independent U.S. federal lending institutions.
"I welcome ORLEN Synthos Green Energy partnering with GE-Hitachi for the deployment of Small Modular Reactors. The United States is helping advance this vital project",said Mark Brzezinski, the Ambassador of the United States to Poland. "That is why today we are announcing a plan to provide significant project financing from the U.S. Development Finance Cooperation (DFC) and the Export-Import Bank (EXIM) of the United States. This is another demonstration of the United States' strong commitment to bolstering Poland's energy security".
Small modular reactors (SMRs) have the potential to become an important part of Poland's energy mix, delivering critical amounts of reliable, zero carbon energy. SMRs can help Poland to replace coal – currently its largest energy source – and to cover the significant increase in demand for electricity that is expected in coming decades.
The move by two major lending institutions sends an important signal to other financial institutions that the deployment of BWRX-300 technology in Poland has well-placed support in Washington, increasing the likelihood the SMR deployments will be able to obtain financing and go ahead in Poland, and throughout central Europe.
"EXIM Bank and DFC are among the key financial institutions in the world", said Rafal Kasprow, CEO of ORLEN Synthos Green Energy. "The involvement of such reputable partners in our SMRs deployment project is the best proof of the enormous importance of our initiative not only for Poland, but also for the U.S. government".
Securing financing is an important element of OSGE's plans to build a fleet of BWRX-300 reactors in Poland and a new area for Polish-American cooperation. On March 23rd, an agreement was announced in Washington D.C. to co-finance the development of the BWRX-300 standard design. OSGE became the first ever Polish company, to sign a nuclear power plant design contract, gaining the opportunity to actively participate in the design process. As a result, the design may better reflect European and Polish safety requirements and standards, making the deployment more efficient and less expensive. The other investors are: the U.S. Tennessee Valley Authority (TVA) and Ontario Power Generation (OPG) of Canada.
"As ORLEN Group, we plan to spend PLN 120 billion (EUR 26 billion) on the development of low- and zero-carbon energy by the end of the decade. Investments RES, including small modular reactor technology, will allow us to carry out the energy transition quickly and effectively. And we need reliable partners to do this. By drawing on experience from the United States and Canada, our BWRX-300 in Poland will be the second in the world, after the Canadian one being deployed near Toronto, in Darlington. These investments, carried out in cooperation with an American partner, will not only increase energy security in the region, but will also support economic development of Poland by ensuring stable energy supplies and creating new jobs", said Daniel Obajtek, CEO of the PKN ORLEN.
"We applaud the U.S. government's consideration of financing for the deployment of BWRX-300 small modular reactors in Poland," said Jay Wileman, President & CEO, GE Hitachi. "The BWRX-300 is the ideal technology to help Poland meet its climate and energy security goals."
"Access to competitive, long-term financing will be a key driver to commercialize and deploy
breakthrough technologies like GEH's BWRX-300 small modular reactor across Europe" said Nomi Ahmad, President & CEO, GE Energy Financial Services. "These solutions will be critical in enabling countries to meet their electrification and decarbonization goals. We are committed to mobilizing the right capital market solutions for GE's customers, working alongside partners like EXIM Bank, DFC, and other public and private sources of capital, to catalyze the investment required to accelerate the energy transition". GE Energy Financial Services is supporting OSGE in establishing cooperation with EXIM and DFC.
OSGE also signed a cooperation agreement Monday with four Polish financial institutions: PKO BP, Pekao SA and Santander Bank – the three largest banks in Poland in terms of assets – and also BGK, a Polish development bank whose specific mission is to support Polish economic growth. Under the agreements, the financial institutions agree to work with OSGE to develop the best possible structure for financing a fleet of GEH BWRX-300 reactors in Poland, including the appropriate lending terms.
The BWRX-300 is being designed to reduce construction and operating costs below other nuclear power generation technologies. Site preparation for the first BWRX-300 is underway in Ontario, Canada.
The Export-Import Bank (EXIM) is the official export credit agency of the United States federal government. It is an institution whose mission is to support American jobs by facilitating the export of American goods and services. EXIM equips US exporters, but also their customers, with tools such as buyer financing, export credit insurance and access to working capital. The bank is chartered as a government corporation by the U.S. Congress, which elects the authorities and establishes the rules for EXIM's activities.
The U.S. International Development Finance Corporation (DFC) is the U.S. development finance institution and agency of the U.S. government. DFC works with the private sector to finance solutions to the most critical challenges facing the developing world today. It invests in sectors such as energy, healthcare, critical infrastructure, and technology. Investments supported by DFC meet high standards and respect the environment, human and labor rights. DFC's total spending cap for its investments is $60 billion.
GE Energy Financial Services is a global energy investor with 45+ years managing assets and connecting capital and technology through financing solutions for complex, capital-intensive energy infrastructure projects. GE EFS has deployed over $50B+ of capital into 20+ GW of renewable energy projects and 50+ GW of thermal power projects globally.
About OSGE
ORLEN Synthos Green Energy is a joint venture company established by PKN ORLEN S.A. and Synthos Green Energy S.A. The company wants to play a leading role in the deployment of small modular reactors in Poland, contributing to the effective decarbonization of electricity generation, district heating and industry. OSGE's mission is to deploy a fleet of BWRX-300s that will become an important part of Poland's energy mix, providing citizens and the industry with stable, zero-emission electricity. For more information, visit www.osge.com and follow us on Twitter @ORLEN_Synthos and LinkedIn.