OPG helping OSGE build the NPP operator organisation
02/06/2023, 17:00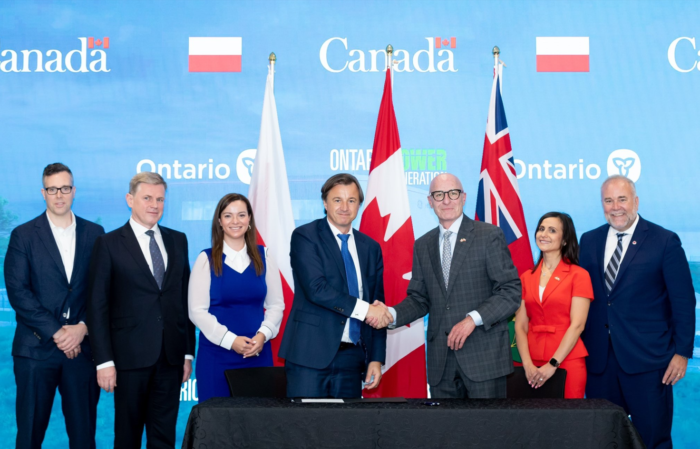 Ontario Power Generation (OPG) and its subsidiary are extending their collaboration with ORLEN Synthos Green Energy (OSGE) as they deploy and operate small modular reactors (SMRs) in Europe. Now OPG will also support OSGE in the area of building nuclear operator competence.
The two companies signed a letter of intent (LOI) at OPG's Darlington New Nuclear Project on Friday, June 2, in conjunction with a site visit by Polish Prime Minister Mateusz Morawiecki. The agreement represents a further step in the present cooperation between the companies, which has been built on previously concluded agreements between OPG and OSGE. The document signed today aims to conclude future agreements under which OPG and its subsidiary could provide SMR operator services to OSGE in connection with the deployment of SMR reactors in Poland and other European countries.
The partnership would include a number of SMR-related activities including: development and deployment; operations and maintenance operator training commissioning, and regulatory support.
"OPG is our key strategic partner. We recognize the company's experience in the nuclear industry as well as its determination and progress in deploying the first BWRX-300. We benefit from the experience of the Darlington New Nuclear Project, and we are pleased that we can use the organization's knowledge and support to deploy BWRX-300 reactors in Poland more efficiently", said Rafał Kasprów, CEO of OSGE. "Working together to develop an operating organization for the SMR fleet in Poland is the next step, with the possibility to expand into the UK as well as other parts of the European Union. We are looking forward to doing so with such a reputable partner", added Rafał Kasprów.
OPG and its Polish partner recently joined the Tennessee Valley Authority (TVA) and GE Hitachi (GEH) Nuclear Energy in a technical collaboration agreement to advance global deployment of GEH's BWRX-300 Small Modular Reactor. Under that agreement, the four companies are investing in developing the BWRX-300 standard design and detailed design of key components.
The first BWRX-300 reactor will be deployed in Darlington, near Toronto (CA), with construction expected to be completed in 2028. Preparatory work is currently underway. For OSGE, this is a reference project which is why the company is working with OPG. The Polish company and OPG's subsidiary, Laurentis Energy Partners, have a Master Services Agreement to support the project to build a fleet of SMRs in Poland. The signing was attended by Ontario Energy Minister Todd Smith during his visit to Poland in October 2022.
In October 2022, Ontario Minister of Energy Todd Smith conducted a trade mission to Poland to strengthen existing relationships and support Canada's partners in Europe looking to build their energy independence. While in Poland, Minister Smith joined Polish Undersecretary of State Adam Guibourgé-Czetwertyński to witness the signing of a Master Services Agreement between Laurentis Energy Partners and Synthos Green Energy to leverage Ontario expertise to support the development and deployment of SMRs in Poland.
"The world is watching Ontario as we deploy the world's first grid-scale small modular reactor to support our growing economy," said Todd Smith, Ontario's Minister of Energy. "Ontario is ready to support our allies, leveraging the expertise of our world-class nuclear operators and exporting products and services from our highly skilled nuclear supply chain, to support their deployment of SMRs as a clean and reliable source of electricity."
"OPG has the knowledge and experience managing large energy projects to assist Poland as it begins producing electricity using nuclear power," said Ken Hartwick, OPG President and CEO. "Along with Ontario's strong nuclear supply chain, we are well-positioned to help others increase their energy security and meet climate change goals."
OPG is the largest operator of nuclear power plants in Canada, the company was the first in the world to select BWRX-300 technology. In addition to its partnership with OSGE and TVA, OPG has signed a preliminary cooperation agreement with ČEZ – the Czech Republic-based energy utility, to accelerate the deployment of SMR reactors in the country. OPG has experience in managing large, complex projects in the nuclear power segment – it is currently finalising the upgrade of two CANDU units at the Darlington nuclear power plant. The whole process was carried out on schedule and within budget. The power station itself is located 3 km from the city of Oshawa, which has a population of 150 000.